The New York Times

' writer Dan Barry
has filled in the gap in what last summer's photo internship at
The Bristol Press
seemed to have left in Connecticut. Mr. Barry has made me realize how special it was to be apart of Bristol's staff, independent of the papers' unfortunate passing or miraculous prolongation. Truth is, I may have only realized my appreciation for editor Bill Sarno, chief photographer Mike Orazzi, front desk clerk Margaret (for her last name escapes me) and the many others I interacted with daily until after hearing it from Mr. Barry. Maybe I needed this article to teach me a giant lesson on the importance of a community newspaper, and the people who piece it together day in and day out.
Mr. Sarno and I shared the same "dimly lighted newsroom" for a summer. I remember rummaging through the newsroom on one of those 96 degree Connecticut days looking for a spare light to put in the photo workroom that had but only two lamps, where eight would have properly lit the area Mike and I filed our photos every evening.
But Mr. Barry is right, amid the dark work space, the editors and writers in
The Bristol Press
newsroom are dedicated to the city the paper serves. Since 1871, the people of Bristol have read what is important to them - in
The Press
. I will always have a affinity with the city of Bristol and Central Connecticut, regardless of the paper's future.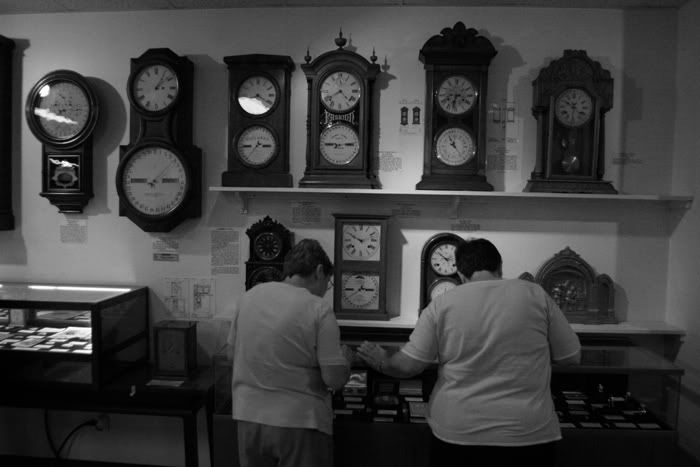 Bristol's Clock Museum