I've taken a couple drives up to Plano to visit the only dairy farm in Collin County -
Lavon Farms
. A year or so ago the farm opened a farm store to sell their raw milk, among other products with the
Lucky Layla
brand name. The store opened along with the raw milk flood gates and customers continue to pour in, grabbing their $8 gallon of milk. Proprietor Todd Moore really does an amazing job at showing people where their food comes from.
Fun side note: Mr. Moore mention that cows on the property birth on average one calf a day. I regret to say, I didn't get the chance to see and photograph the birthing.
You can use these links to view a
slideshow
and
video
of my work from Lavon Farms.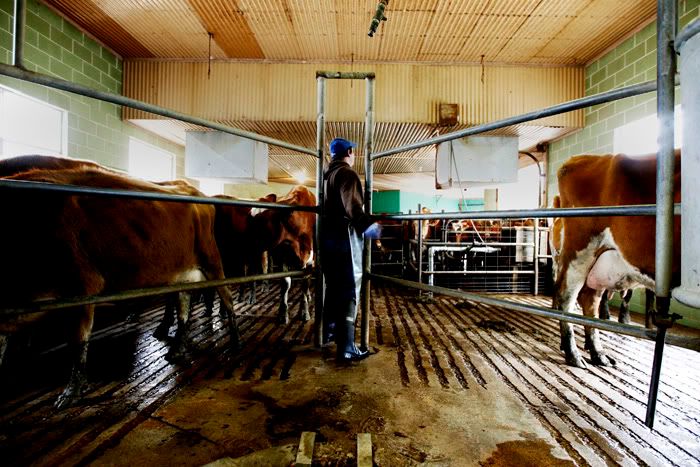 Lavon Farms milk hand Kendall Lambert prepares Guernsey and Jersey cows for milking in the afternoon on Saturday, February 6, 2010. Lambert has worked at the last dairy farm in Collin County since October of 2009. (Andy Jacobsohn/The Dallas Morning News)
Quang Nguyen, of Plano, watches as his children Megan (left), 10, Alan (middle), 13 and Justin (back), 9, select yogurts at the Lucky Layla farm store at Lavon Farms in Plano on Saturday, February 6, 2010. Lucky Layla products are produced and packaged on the farms property. (Andy Jacobsohn/The Dallas Morning News)
Pam Koenig, of McKinney, looks through the raw milk, variety of yogurts and cheeses at the Lucky Layla farm stone at Lavon Farms in Plano on Saturday, February 6, 2010. Lavon Farms is the last dairy farm in Collin County. (Andy Jacobsohn/The Dallas Morning News)