...when I shot some collegiate football on Saturday. In the shade at UB Stadium it had to have been 45 degrees Fahrenheit. With three more home games left in the season it is the warmest it will get for the remainder of the season.
The Big South Conf. Gardner-Webb Runnin' Bulldogs lost to the MAC Buffalo Bulls 40-3. It was pleasing, and settling to finally make some nice features images in UB Stadium - or soon to be ice bowl.
Buffalo tight end Jesse Rack (82) celebrates after scoring one of his two touchdowns in the second quarter against the Gardner-Webb Bulldogs at UB Stadium in Buffalo, NY.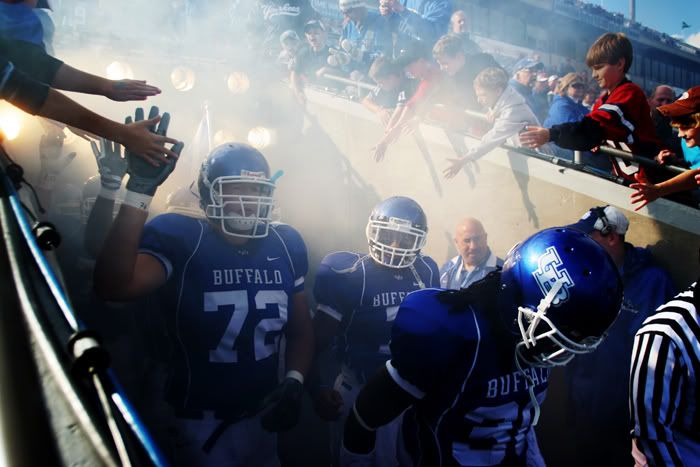 Buffalo offensive lineman Andrew West (72) greets fans while entering UB Stadium before a game against the Gardner-Webb Runnin' Bulldogs in Buffalo, NY.
Gardner-Webb Bulldogs cornerback Darren Rogers (15) approaches quarterback Stan Doolittle (8) toward the end of fourth quarter against the Buffalo Bulls at UB Stadium in Buffalo, NY.